Assess don't self-criticize!
I want to share what an amazing experience I had this week. I create a Word of the Day cluster every morning as soon as I wake up. The night before, I create a notebook page with a circle in the middle and place it within easy reach along with a pen.
My newest innovation is that before I go to sleep, I ask my deeper self to give me a word that describes a solution to a problem. This is a new use of a familiar technique. Remember that the original technique is used to awaken and ask for a random word without any agenda and to use it to generate story material.
As I work on the Word of the Day book, I struggle to find the best words to describe something new. The language I need is not there, so I asked for a word to help me describe what I'm trying to convey on Wednesday night.
I woke up at 6: 00 AM, and the word that came was "access." I then created a word cluster, generating words until I found a contrasting word, which was "doubt." Then I got up and went about my business.
Then, on Thursday night, as I was doing the nightly script, I realized that the word I had written was "assess," not "access." I am a good speller, so the replacement of C with S was a cue that there was some wisdom to be found, but I was puzzled and unable to connect "assess" to "doubt."
Today as I was working with my voice coach, he asked me how the good fight against writers criticizing themselves was coming along? I then had a moment of clarity: since everything occurs in language, what if teaching myself and other writers to successfully avoid generating self "doubt" could be achieved by simply replacing the word "criticize," with the word "assess?"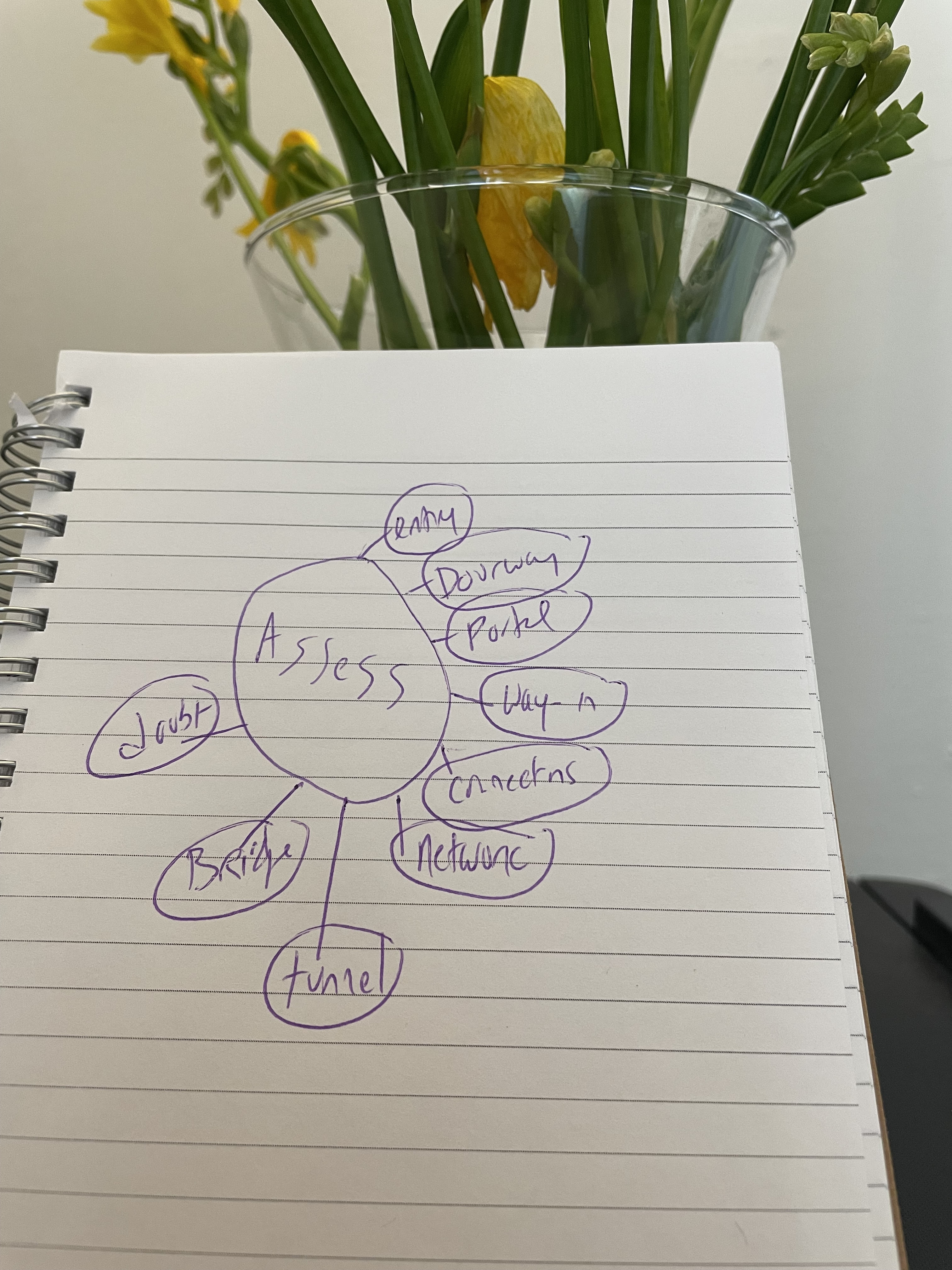 Using a different word to describe a habitual process changes our approach to disempowering self-curating immediately and forever! We all want to improve but have been brainwashed to believe that self-criticism is essential to move forward. I say fooey, and that self-criticism fosters self-doubt, which compounds and expands the size of the problem. That was why the word "doubt" appeared as the contrasting word in the cluster-to show me where the conflict I had about how to describe a method to resolve self-doubt forever lay.
What if we taught ourselves to be like professional athletes, look first at what we did well, and work to improve from there? I believe that we would then be more willing to take a creative risk because if it didn't work, we would no longer give ourselves a beating! When you're not happy with yourself, say, "I'm going to assess the situation," and see if you don't react and behave differently.
I'm excited to announce the winners of the first Word of the Day contest on Wednesday at our next class. If you're interested, please check out the free seminars, and you can explore Word of the Day technique by downloading our cheat sheet and giving it a try.
Here's to your successful writing,
Professor Marilyn Horowitz