Happy Friday!
The latest webinar, Use Scripting to Succeed in Your Writing and Your Life-Part 3, was very exciting.
Attendees reported many benefits from following the techniques, such as increased productivity, confidence, and some "miraculous" events occurring as a result of doing exercises. In the class we reprised the basic exercises:
1. As a quick warm-up, think of a word you love, write it down, and write all of the things that the word reminds you of.
Lisa S., one of our writers recounted how when she selected the word, "Heart," writing about it brought her to associations about art and how much she loves it. I asked her for a visual image. The sculpture of love by Robert Indiana came to our collective minds.
This first exercise can open up your day's writing in magical ways! Now you're ready to take on the scripting process. Here are the instructions:
2.Take a fresh page,  date and label it "Wants/Intentions" and write down at least seven things you want. This can include a cup of coffee, a new job, winning the lottery, or a walk in the park. Write fast. Feel how as you free yourself to feel desire, you shift into wanting to do something to bring your wants to fruition. These feelings are intentions. Write them down as well. We want to distinguish between wishes and desires. This is the fast track to knowing our own minds!
3. Next, take a fresh page and label it "Beliefs," then write down at least five beliefs such as "I believe I can get to the gym today," or "I believe that I will do a good job at work today." This can take a minute or more.
4. Next, take a fresh page and label it, "My Daily Script." Set a timer for five minutes, and write about your day as if it has already happened – just the way you'd like it. Be careful NOT to be practical. Only think of what you wanted, not how you got it. For example, I might write: "Today was a great day! I worked on my new book for an hour and got fifteen pages done." The caveat is that you must be careful to describe and define what you write in positive terms as if the events have already happened.
5. Before you go to sleep. The final step is to write a brief reprise of how the day actually went and include things you wanted to happen.
What you'll start to notice if you take this on is that in a short time, your imaginary script and the reprise of the day begin to become increasingly similar!
And then we focused on how to take the word of the day, create a cluster, and then expand that cluster into a second cluster to generate story ideas. Here's an example:
As you probably guessed, my new novel is about tango. I set a timer and clustered for 2 minutes, and then took the last word, "Pivot," and started a second cluster.
From the word, "Pivot," I kept free-associating, and suddenly, I was remembering some of the places I've danced, some of the men I've danced with, and some of the tropes of the dance itself. "Collect," is a dance term for how you must bring your feet together after each step or a series of steps. The embrace is considered the most fundamental part of the dance, and pivoting is just that, turning.
In the next session, we'll turn this cluster into a short story or synopsis. Please create your own clusters and if you'd like to participate, I will show one of two of you how to make a story from them. Be sure to send them to me beforehand.
To recap, in the next webinar, which will be held on February 24, 2021, we'll learn to transform the Word of the Day Cluster Process into a second cluster that will lead us to a tantalizing story idea, then in the following seminar (3/10/21) we'll start writing.
Please save the dates, I will be sending out an invitation soon. Please invite your friends and colleagues. These powerful transformative techniques need to be shared, and I will be reprising the process at the beginning of the class. If anybody would like a copy of any of the webinars please let me know.
I'm also absolutely thrilled to be sharing Jokeonastick episode number 59 with special Valentine's Day treats, so enjoy!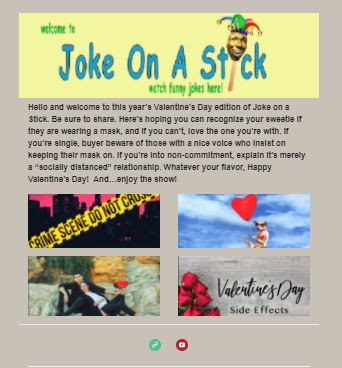 Here's to your successful writing,
Professor Marilyn Horowitz