Happy Friday, and Happy New Year!
How did it get to be autumn so fast? It was May 27, and we were heading to Fire Island hoping to beat the storm which hit the next day, and we returned last night, beating the rain.
I'm having culture shock. I haven't done a lick of work all day and keep going to my local Pioneer to buy silly things for the cat. This is a 7 out of 10 level stress response.
I realize that there are good reasons for my stress: There are no cars in Fire Island during the season, our house out there is much larger than the city apartment, and we have a new cat who we have mostly, but not completely tamed after feeding him for two and half months. So he's hiding out in the bathroom.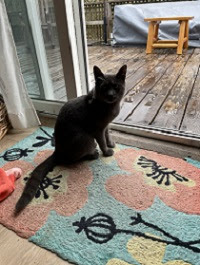 We were fortunate to have a native Fire Islander drive us to the mainland. I arranged to return to the City in a Carmel van with all of our stuff and the new kitty, so the trip was drama-free. Unfortunately, David had a much harder time.
We retrieved David's truck, which sat in the Bay Shore parking lot for three months, and when he turned it on, it had no brake fluid! David's phone was also on the fritz, so he couldn't call me or anyone else. He decided to attempt the return trip driving slowly. He soon realized that he couldn't make it and decided to return to the parking lot.
David looked for a place to turn around and found himself in a parking lot. As he tried to make a U-turn, he noticed a parked tow truck. The driver came out carrying a cup of coffee, and David asked if he was free, and yes, he was just coming off his last job.
So, with no phone and no brake fluid, David got himself to his mechanic in Long Island City and arrived home twenty minutes after I did! Magic!
Here's the punchline: The driver's name was also David, and the towing company's name is Oasis. You can't make this stuff up!
He got up and put in a day's work. My hero. I'm sharing this story because I didn't get control of myself and didn't get my writing done. The world feels a little icky, and it's as if everything is a little dark. In other words, I'm angry at myself for not writing much. My suggestion that I will now take is that I will commit to always getting some writing done no matter what. The punchline here is that even though I'll get some work done, I didn't do it when I was supposed to this morning, so I'll still be angry with myself. Will I give myself a break? Unlikely! So note to self: write first, then do everything else! If you're anything like me, I share this suggestion!
As always, excited to share the featured clip #89, the latest episode of Jokeonastick.
Here's to your successful writing,
Professor Marilyn Horowitz