Happy Friday!
I hope you've all managed to be cool in the heat wave! I've stayed inside and chilled out with my cat, Spooky.
But I've kept busy, too.
Rewriting the Screenplay in Six Weeks
I'm so excited about the progress that my rewrite class is making! This week we reviewed my students' revised outlines and treatments. Each story is original and well-structured enough so that they can focus on the next steps, improving scene work, and tweaking the dialogue.
Writing a screenplay becomes super fun when getting to the point where your focus is on what's happening in the scene, not where it fits in the overall structure. The next best part of rewriting is knowing that your foundation and scene work are solid so you can put all your energy into improving the dialogue.
My writing system offers a simple method for creating the first draft easily and efficiently. By not agonizing during the creation of a first attempt, you'll save energy and preserve your self-esteem so that you can nail the story in the second draft.
To my class: I am so proud of your hard work!
Word of the Day
I'm looking for beta testers to use the Word of the Day book. The PDF of the book is free for beta testers to print out, and you would agree to do the Practice every day for thirty days. I will hold a free weekly webinar to discuss what experiences people are having. If you're interested, please let me know.
Word of the Day Webinar
Our recent webinar was about how our process of drawing the Word of the Day reveals fascinating aspects of our creativity. The word that we used was "Focus." The different approaches to the word were fascinating and all different. Kudos to my class for being so adventurous and daring!
Next Word of the Day Webinar
The next webinar will be on September 14, 2022, at 7:00 pm EST. Mark your calendars and make plans to attend.
Sandals
I was going to share my Word of the Day cluster using the sandals prompt from last week, but then my dear friend Christine sent me her cluster, and I had to share. No way I could top this!
My next session of How to Write a Screenplay in Eight Weeks begins Tuesday, September 20. We'll use my trademarked writing system and your story idea and expertise to create a riveting story in just eight weeks! Please join me and give yourself a great Christmas/Hanukah gift-the first draft of a new screenplay.
__________________________________________________________________________________________________________
I'm pleased to share that a former student, Sila Long, has just released a new novel!
 Touched the Moon: A Tale of Abduction and Redemption is a gripping fictional story of one girl's remarkable journey of survival based upon true events. The book is available on Amazon here.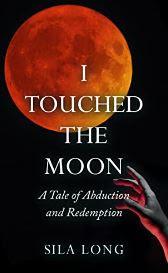 Here's to your successful writing,
Professor Marilyn Horowitz