Happy Friday!
I commend everyone's ability to keep their eye on the ball, and to continue writing in spite of this week's disturbing events.
The value of the right word
It's worth noting that a nonviolent solution was attained by reclassifying some of the people involved in the demonstrations. As soon as consequences were attached, and the violent events were reframed from revolution to crimes, all those thugs mysteriously disappeared. This current event is especially relevant to us as writers, because it demonstrates the power of finding the right word to describe people, places and things. As soon as the word "demonstrator" became "terrorist," things calmed down. Have you ever struggled with naming a character, and once the right name was found, your story flowed? I rest my case, your honor!
Three mistakes and their cures
In my private rewriting class this week, we discussed some of the classic mistakes that we make a storytellers. Here are three with solutions that will be helpful.
1. Having a flashback occur in the beginning of the script.
The flashback is a perfect choice for a first draft since the screenplay form limits our ability to get inside a character's heart and mind. The trouble with flashbacks is that they halt the forward momentum of a screenplay, and can ruin an exciting story by slowing it down.
So in your  second draft, either begin the story at the flashback, use it later when there's a big revelation, or accept it as backstory, and cut it.  These suggestions are fixes, but the real cure is to better development work before you write so that you can use the character's actions to convey the same information. See the character exercises in How To Write A Screenplay in 10 Weeks-.an hour of the right preparation can save you countless drafts. Work smarter, not harder!
2. Having the hero or heroine be passive. In a recent thriller project I'm working with a writer on, the main character is contacted by the FBI to solve a problem. The character reacts rather than initiates. The solution in this case was to have the main character discover the problem and call the FBI. Ask yourself: How can I raise the stakes by making my main character proactive in Act 1?
3. Overwriting description. Solution: make decisions about details based on whether the description reveals the action of the plot, reveals character or sets the mood. Read some classic screenplays to get a feel for this. Read Casablanca, When Harry Met Sally, Alien, and my personal favorite, Se7en. The different genres will inform how to create the mood, and the excellent use of the format an asset rather than a handicap.
Joke on a Stick's 100th Clip
I'm so excited! Not only have we reached this landmark, we are getting 10-20,000 views on Instagram! Check us out at jokeonastick.com and sign up for a free subscription, and tell your friends!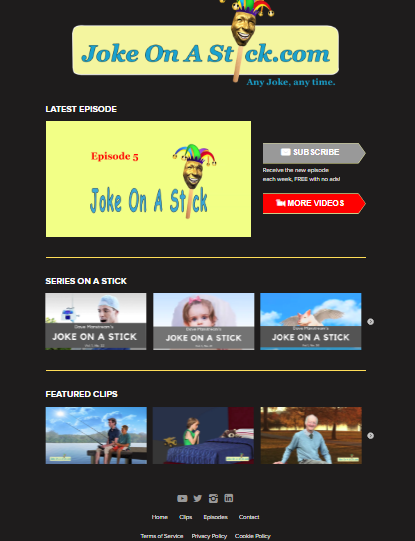 Free Webinar
My free webinar had 16 attendees for part 3, and they'll be a 4th session next Thursday.
How To Use Screenplay Structure To Create The New Stories About Coping With The Pandemic, PART 4
Thursday, June 11, 2020
7:00 pm to 9:00 pm EST
via ZOOM
In the fourth section of this interactive webinar, you'll learn to how to use the first line of your story to create a "soft" outline and a foolproof way to structure a memorable story every time! Using the 4 Magic Questions of Screenwriting, you'll hone your ideas and determine if they have "legs." I hope you'll join me for this fun adventure. Be sure to have pen and paper at the ready! If you want to join please send me an email, and I will send you a link.
Please email me at marilyn@marilynhorowitz.com if you'd like to attend.
Here's to your successful writing,
Professor Marilyn Horowitz