Happy Friday!
It's been an exciting week!
When I'm in the city, I love to dance! I danced the tango on Saturday in Central Park and Sunday at Pier 45 on Christopher Street. Last night I danced ballroom, swing, and a little tango at The Red Piano Lounge on the Upper Westside.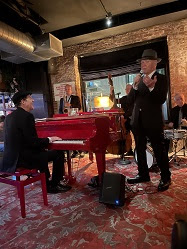 My friend Victor Neufeld and his band play there every other Thursday, and there's always room to dance.
My friend, Albert, is an expert dancer, and we danced up a storm. Life is good!
The Word of the Day webinar on Wednesday was very exciting because we used the Word of the Day Cluster technique to develop a new story and find the organic conflicts in the course of the class, which was an hour and a half.
Bravo to my awesome students!
Here's the exercise:
1. Find your Word of the Day and create a cluster.
2. Continue brainstorming words as you cluster the chosen word until you find a word that is opposite, contrasting, or adversarial.
3. Then compare the two words by placing them side-by-side and clustering around them until you start to get ideas for a story.
4. Quickly write the idea down, however roughly.
One of my private students used the exercise to create a new screenplay. She wanted to write a thriller but wasn't happy with her story ideas.
One morning she clustered using the word "suspect." As she brainstormed, she thought of words including "suspicious," "perpetrator," "crook," "crime," and "cops." None of these were adversarial, so she kept free-associating until she thought of the word, "heart."
She brought the cluster to her next session with me, and we built a story in about two hours. I showed her how to put the two words in the same circle and cluster them together.
story called The Suspect Heart that would be about someone who finds out they have a fatal heart condition. They don't want to die without confessing to a crime they committed that someone else took the blame for. The twist was that they would have to implicate someone close to them if they did so.
This was exactly what she was looking for in her story! It's amazing how easily this technique takes you to what you want to create in such an easy and direct way.
Try it for yourself and see!
The next Word of the Day webinar will be in 2 weeks on June 29 at 7:00 pm EST.
Here's to your successful writing,
Professor Marilyn Horowitz