Happy Friday!
Tonight is the beginning of Rosh Hashanah, the Jewish New Year. New beginnings are always fun, whatever your religious persuasion. As a writer, I always appreciate the symbolism that accompanies religious events. The holiday celebrates the birth of the world, not just a new year.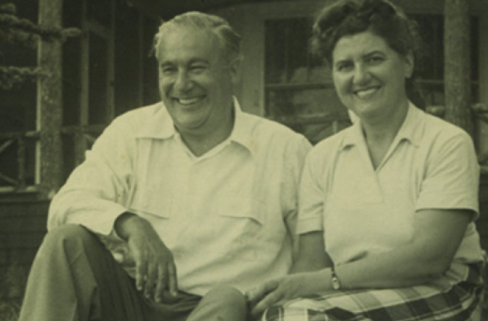 My grandparents, Bertie and Charlie Schwartz were both religious Jews, and together wrote a book, Faith Through Reason, that delves into the principles of religion through the prism of reason. Both lawyers, they argue that faith can be reason based, and doesn't require a suspension of disbelief to be effective. I fondly remember sitting between them at B'nai Jershurun during the high holiday services. My memories of the High Holidays are precious, and I want to honor them today.
Grandma Bertie was a ferocious proponent of Jewish Literacy, and you can read about her in this blog written by my brother, Roger, a highly respected food historian.
For us writers, it's always a good  time to review the year that's passed, and make plans for the future. I like the concept that we annually renew our desire for world peace and happiness, and that on this day, somehow our wishes are heard, and the world becomes a better place.
In these difficult times, we all wish for a return to global health, and the return of a world in which we can move freely according to our own dreams and desires. I'm not a practicing Jew, but I respect the culture I grew up in and want to share a piece of it with you.
The following image and quote comes from Chabad.org
Why Rosh Hashanah Is Important
 "The Jewish New Year, Rosh Hashanah actually means "Head of the Year." Just like the head controls the body, our actions on Rosh Hashanah have a tremendous impact on the rest of the year. It is a day of prayer, a time to ask the Almighty to grant us a year of peace, prosperity and blessing. But it is also a joyous day when we proclaim G d King of the Universe. The Kabbalists teach that the continued existence of the universe depends on G d's desire for a world, a desire that is renewed when we accept His kingship anew each year on Rosh Hashanah. If you click on the link above, it will take you a page that discusses the symbolism of the Shofar, Ram's horn that is blown during the Jewish services, which is very cool.
My Webinar:  Use Screenplay Structure to Structure Scenes and Write Great Dialogue
My webinar was fun and 20 people attended. The thrust of the conversation was that scene structure combined with knowing the characters' dream,  and asking and answering these five questions: who, what , when, why and where, can help us writers to generate complete sequences for a story with ease. A sequence is a series of scenes about a specific question, much like a chapter in a book. And further, that defining the locations of the story would refine these choices to a highly effective degree, and organize the individual scenes within these sequences organically, and thus correctly.
For example,  if your main character's dream were defined as finding home, like Dorothy in the film, the Wizard of Oz, the movie is set in Kansas (where)in the 1940's (when), Dorothy is our main character (who), Miss Gulch is her nemesis(why), and Toto(what). Toto is the catalyst because his actions get the story started. In the opening sequence, which we have defined as a series of scenes, Miss Gulch comes after Toto to put him to sleep, and Dorothy's adoptive parents have no power to stop her. In the two following sequences that make up Act 1, Toto escapes, and Dorothy runs away. She meets Professor Marvel, who convinces her to return home. Dorothy's then caught in a tornado and lands in Oz.
Once this work has been completed, dialogue naturally arises from each of the character's needs, so what needs to be said becomes obvious, thus writing the scene becomes easy.
I'll be giving another webinar soon, so stay tuned.
Hooray for Episode 38 of JokeonaStick!  Please visit jokeonastick.com. and subscribe for four fresh animated jokes in your mailbox every Friday. Our latest, Cuties has received over 20,000 views on Instagram this week!
I wish everyone a sweet and healthy New Year!
Here's to your successful writing,
Professor Marilyn Horowitz