Happy Friday!
I'm excited about my upcoming webinar on Wednesday, February 10, 2021. Please join me, even if you haven't before. These writing techniques help writers use their skills to transform their writing and effect positive changes in their personal lives. These techniques are new, you haven't seen them before, and they work!
One of the benefits of thinking about what you'd like to happen is now that we are starting to recover from the past year's chaos, we've all learned a lot about ourselves and maybe want different things than we did before. For example, perhaps you enjoyed going somewhere to work before the pandemic, but now you realize that by not commuting, you gain 10 hours a week to write! Maybe now you never want to go back. These kinds of insights need to be reflected on and processed actively.
We'll be exploring these techniques on Wednesday night.
My suggestion for making scripting even more effective is to remember the golden rule of manifesting:  You have to ask. Whether verbally, mentally, or by writing, be specific and have a reasonable time limit.
Divine intervention isn't allowed to help unless you literally ask for it.
I'm looking forward to sharing how exactly to use your words more precisely to get results. For example, I asked for an office with sunlight near my home. Then suddenly, a neighbor moved out of an apartment upstairs two weeks ago. It has a terrace, all-day sunlight, and my landlord didn't raise the rent! I move in on Sunday, which is also my birthday. This wonderful event was the direct result of using the scripting techniques I'm sharing.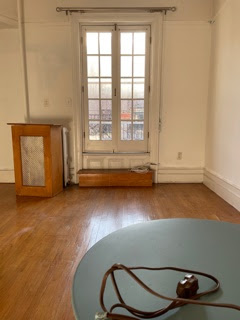 Please email me if you'd like to give it a try.
F.Y.I. There are two places left in my N.Y.U. class that begins February 23, 2021. It's a Professional Studies class, so you don't have t be enrolled at N.Y.U. to join.
And finally, I'm excited to share the latest episode of Jokeonastick, #58.
See you Wednesday!
Here's to your successful writing,
Professor Marilyn Horowitz