Happy Friday!
We were fortunate to be able to rent the same house that we had last year, and now will be out at the beach for a couple of months. It's so great to be out here. No one is wearing masks and fearfully trying to keep social distance while passing each other on the narrow boardwalks that crisscross the island. Back to…normal?? New normal? Anyway, I've been so thrilled that I didn't mind the rainy weekend and the cold, cloudy days that followed.
The sun is out as I write this, and I feel happy to be alive.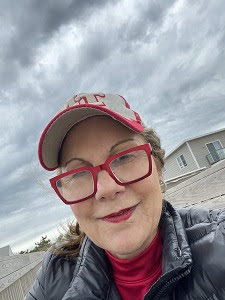 Of course, since I'm a writer, happiness is always conditional, and this feeling is only possible because my rewrite is coming along well. LOL
Here's a photo from my neighbor's front lawn.
In this photo, the beautiful flower seems to be " protected" by a large spiny pine tree. This is the stuff of the writer's dream environment, a natural event fraught with psychological metaphor and depth. For example, if I introduced my current female character into this moment and she saw the flower and the tree for the first time (not necessarily in this location) and responded to the flower as a symbol of the kind of woman she'd like to be, we gain an insight into her character in a visual, not a verbal way.  Showing is always better than telling. We can then imagine that she is searching for the right partner, but can't figure out the sort of person she needs, which creates the central conflict in this new story. If she identifies herself metaphorically as the flower and perceives the pine tree as "guarding" the flower, she can then realize that the tall, caustic, grumpy guy she's been avoiding is like the pine tree and she needs to accept that he's the right partner…. And then the story can have an organically generated happy ending. I love it when we can make art out of life!
The Art Out of Life Exercise
The exercise I'm suggesting for this week is to walk in a park, a trail, or someplace that is in nature whether you're away or at home, and look for events such as the flower and the tree, or the deer feeding, and see how you can use what you see to deepen or create new insight, line of dialogue or even a story idea. Even an unintentional selfie can yield insight if you can pretend that the selfie is of your character, and not you.
Once you find something intriguing, take a photo of it, and write about it for five or ten minutes and see where it takes you.  Mastering the symbolism of the outer world as it relates to the inner life of your characters can yield high rewards in your writing. If you repeat the exercise several times you will begin to notice that your observations have a theme. More on extracting story things from real life next time.
I'm always excited to share the latest edition of JOS Episode #75. We now have over three hundred original clips!!!!
Here's to your successful writing,
Professor Marilyn Horowitz