This is the last day of the year, and I'm excited to begin 2022!  I always take this day to reflect on the past year and select the highlight of the year.
The highlight of 2021 was Spooky, our Russian Blue cat who we met in Fire Island at our summer house. One evening, our friend, Ionnis who's a professional chef, was grilling on our deck, and this gorgeous gray kitten appeared on the walkway. After we fed Spooky some wonderful steak, he never left. That was in July. We brought him home in September, and he is settling in.
Spooky has helped us to create a new structure for our lives, and gives us more stability because cats need structure and routine. As a writer, I tend to be more spontaneous, but knowing I will feed him at 8:00 am, followed by playtime and a treat hunt allows me to be more productive because I now start writing at 9:30 every day.
Adopting a cat or two will help your writing, and make you happy!
We wake up each day excited to see what the little critter is doing. He meows for breakfast, and as soon as I go into the kitchen, he comes in, and lies down, waiting not for food, but for a pat. He's not ready to be touched so I use a small stick to rub his ears, which makes him roll on his back and stretch! By the time I get to my desk, I'm inspired and happy!
My friend, Christine H., was instrumental in helping David and I tame the kitty, and she has been feeding felines and other animals for many years, as well as finding homes for them.  Chris currently has several beautiful cats who need homes. Here are photos of several of the available cats. I have met them all, and if I didn't have Spooky, I would adopt at least one.  If you are interested in adopting, please let me know, and I'll introduce you to Christine via email.
Blue Eyes is female, is neutered and is very sweet. Blue Eyes and Love Bug (right) are friends and should be adopted together.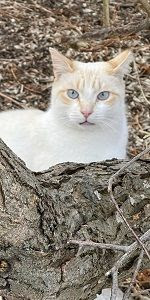 Love Bug is a male and is also neutered. I have spent time with him and he is very sweet as well.
This is Little Baby. She is eight years old, neutered and she's very affectionate. She's friends with Diamond (right) so if you had room for two they would be a good pair.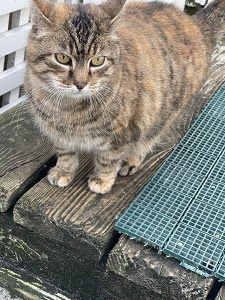 Diamond is a three-year-old neutered male, who is very loving and playful.
You only need to make one New Year's Resolution for 2022!
While it's good to review things you could have done better, and make resolutions to change, if you don't follow through, your self-esteem will plummet and can damage your work and state of mind. So, avoid specific items like losing weight or going to the gym. Instead, decree that you will do more of the things that make you happy, and avoid more of those that don't.
The first step is to analyze what you actually prefer.
Use a notebook and a pen.  Spend next week noticing during each activity how much you're enjoying yourself on a scale of 1-10. Keep a running list of each activity after giving it a score. At the end of the week, review the notes and you'll start to see clear patterns. The next step is to remove the stuff that doesn't make you happy and replace it with stuff that does. Sounds simple, right? Well, it is!
Try this for a week, and you will be able to improve your daily time management tremendously.
Happiest New Year, and I wish all of you great good fortune in the coming year and beyond.
Here's to your successful writing,
Professor Marilyn Horowitz