Happy Friday!
Last night, was the final meeting of "The Success Seminar" at the Landmark Forum via Zoom. There were 74 people in attendance, and when we were asked what we'd gotten out of the seminar, amazing transformations were shared.
Two examples: One woman who was always in debt, lost her various jobs because of the Corvid shut down, and was in a flat panic. But because of the techniques she learned in the workshop, she ceased to define her success by dollars, and money rolled in from creative projects she's given up on. Now she's able to pursue her art full time! Another person connected with his father, and discovered that his father had always considered him a success, not a failure. The son was able let go of his old beliefs, and moved forward both professionally and built a friendship with his dad. Impressive results, even more so since this is all happening under quarantine.
The goal of the seminar was to help each of the participants redefine success in their own terms, free of societal conditioning and brainwashing. In the final seminar, we were given two keys for how to live in a new state of happiness and success.
1. This moment is it. That's all there is, plus what's possible.
We're constantly being barraged with slogans, and admonitions to be "mindful" and "present." All well and good, but this notion, is more useful because there's no room for interpretations.
After the seminar was over, I made a big sign that read;" This. Is. It, and what's possible.
I woke this morning, slightly hungover from drinking some really good Tequila (Casamigos, thank you George Clooney!) The first thing I saw was this new sign on the wall.
Please try this at home! For once, I was able to completely focused on what I had to next and my mind relaxed.
2. Life can be a struggle, or a dance, your choice. Try a new paradigm: think of everything as dancing. That being said, use the metaphor to free up your approach to everything you do in your life. The only way to dance is to actually dance. It requires no extra equipment or training. The only way to get better at dancing is to actually dance. The goal of dancing is not to dance well, it's to enjoy yourself.
Since I'm social dancer, I use dancing as a metaphor of life when writing is to consider what relationship my characters are having with the people around them.
I look at every story and scene as a dance. Most dances have a leader and a follower, both equally powerful roles. When I work on a scene, I ask myself: which character is leading? By defining my character's roles, it's then easy to shape the beats. The "dance "begins when one person wants something, and ends when they either get it, or not.
A movie is a dance between hero and villain. While it's traditional to write it as a struggle or a battle, if you think of it as a dance you will get some very original material. A good example of this is the film, In The Line Of Fire. Two men are in opposition: One to save the president, and one to kill him. The writer creates incredible conflict by structuring the story like a dance, with the bad guy leading, and the good guy following until the climax, where the roles reverse. The editing is rhythmic, and we are on the edge of our seats because the writer was able to maintain the relationship between the characters as you would in any partner dance. It's a very different experience than the usual action film.
Think of your characters as dancers. What kind of dance would they do? Are they leaders or followers? What's the rhythm of their interaction with other people, authority, the world?
To recap, put up a sign to remind you that the present moment plus what's possible is all that we really have, and from now on, consider both your writing and your life as being a dance.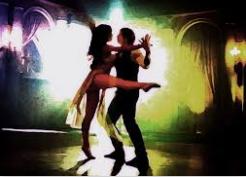 I'm also so excited to share the latest episodes of
Jokeonastick
.