Happy Friday!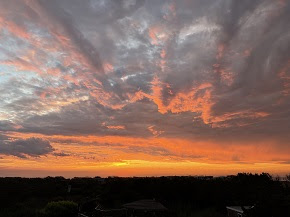 I've had the good fortune to be in Fire Island all this week, missed a heat wave, had pure quiet, and completed another revision on The Word of the Day book, which can now be sent to my editor. Yay!
As I wrote last week, I know the book's almost done because I can't find anything else to do. When revising, the discipline you need to cultivate is to be able to stop when you reach this point because it's so easy to spoil a good piece of writing by overediting. I think of rewriting as being like cooking – when the roast is done, take it out of the oven because otherwise, you'll ruin it by overcooking it.
This morning I began doing something new with the Word of the Day. My word was "accepted." I was dictating while watching the sunrise, and the word was interpreted as "excepted." I was intrigued by this because two words that sound so similar mean almost exactly the opposite thing!
I decided I would try to cluster them as if they were the word of the day and the conflict word and see if a story idea emerged.
Here's what happened:
The conflict word was forgiveness, and the story idea I got was a modern retelling of the bible story of Joseph and the Coat of Many Colors. In the original story, his brothers are jealous and sell him into slavery. Joseph prospers despite the betrayal. When his brothers are in trouble many years later, Joseph saves them. The moral of the story is that Joseph forgave his brothers for being "excepted" through his own "acceptance" of what happened, and thus the family was reunited.
From the words "In-crowd" and "clique," I got a show business feeling and thought of The Rat Pack, so I'd set this story in the Sixties in Los Vegas. I was also listening to Dean Martin singing Sway, a song from that time. As an aside, I dance ballroom as well as tango, and Sway is a great song to Rhumba to! Back to the story idea: I would cast a fictional Rat Pack-type clique as the evil brothers and have them betray a far greater singer named, you guessed it, "Joe," to keep their jobs. Joe finds his way in Europe, and decades later, when the Rat Pack guys get in trouble with the mob, Joe comes to their rescue and finally gets recognized for his talent.
As a fun writing prompt, I took this photo this morning at the beach.
Try using "sandals" as your Word of the Day tomorrow, and see what happens. If you get something good, send it to me, and I'll include it in the newsletter. Stay tuned for my cluster and my story next week!
Please join me for the next Word of the Day webinar on Wednesday, August 10. We'll look at how different people use the techniques. If you haven't attended before, don't worry; just read the cheat sheet here.
Here's to your successful writing,
Professor Marilyn Horowitz