Happy Friday!
It's been a very stressful week! For example, my Monday was such a disaster that I think it's the basis for, at the very least, an episode of the sitcom. Here goes:
The first thing that happens is my toilet overflows—a mess.
Next, I go out onto my little terrace to calm down, and suddenly there are jackhammers on the roof next to me, making a horrifying amount of noise.
Then I go to do a stock trade; I hit the wrong button and buy instead of sell.
I think to myself, OK, this day can't get worse, so therefore, it will get better. I settle down, put on headphones so I can't hear the jackhammers, and go to work.
Fifteen minutes later, the phone rings and the lady whose house I plan to rent for the summer tells me there's a problem with the ceiling.
"I don't think it's a big deal, but a part of the ceiling fell down."
I asked if she could FaceTime me, and what I saw was the main room of the cottage with a 3-foot wooden beam smack in the middle of the room holding up the ceiling! Next to the beam was a long crack where the wall and the ceiling meet. So now I don't have a place to hang out during the coming summer but felt sure that this Monday storm had come to an end. The jackhammers were quiet, and the sun was out, so I breathed a sigh of relief. I went to get a glass of water to take out onto the terrace, but then I discovered that I had a leak under my kitchen sink, and when I went to get water from the bathroom sink, the faucet was and still is leaking.
Later, I went to meet a possible date for dinner. I ordered soup dumplings and pea shoots sauteed with fresh garlic. Soup dumplings are one of the messiest things you could possibly eat if you were trying to impress somebody; I would describe them as the world's worst date food. And garlic is not an aphrodisiac, and the greens get stuck in your teeth. To finish off this meal from hell, he ordered a chicken dish that was so hot we each had a coughing fit. After dinner, I thought, "OK, the evening is almost over just have to kill a few more hours until midnight."
I went to the gym, and of course, every machine that I wanted was being used by somebody else. I left, went to my local watering hole, and over a glass of champagne, laughed myself silly, then rolled out an outline for a bible for a new series the style of Seinfeld or a dark romantic comedy feature. I just added a few characters and a pinch of plot, using my actual day as the story map. It was fun, and if I ever need to come up with a comedy series on the fly or pitch a dark urban comedy, I've got the basics organized.
I'm sharing this not to complain but to illustrate one of my most basic writing principles: use whatever is going on to fuel your current story.
Word of the Day Happenings

In our Word of the Day Club group, it's Nancy and Eden's birthday, so we wish them all the happiest and healthiest in the coming year.
And during this week's Word of the Day club meetings, Nancy Cohen, the birthday girl mentioned above, used the Word of the Day to muse about love, and what she wrote became the poem below. I was completely delighted with this beautiful piece of poetry, and I hope you will enjoy it. I reprinted it with Nancy's permission.
Arrived
Just a note.
A whisper.
A beat,
That slips into the ear like a pussy willow sliding across the floor.
First, a tickle, ever so slight.
Then the singing flowers turn their faces to the sun and the body says yes. yes. yes.
The ear heart highway is long or short, sound and mood dependent.
The cosmos steps in, too.
This time, little traffic and plenty of petrol.
No need to stop for coffee.
Are we there yet?,  a tiny voice asks from the back
Soon, soon.
Paint that on your sneaker as you look to your feet for the right step.
No detours. You're on the straightaway.
One more turn and landed.
…
The inn of the heart welcomes its visitors with violins and cellos.
All the strings are tuned. The brass knows its place.
Soon is now, right now.
 Ready.. Breathe.
Let the dance begin,
And float.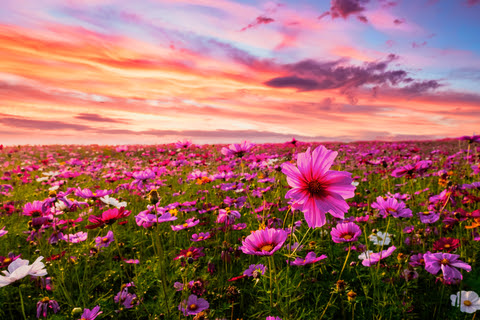 Here's to your writing success,
Professor Marilyn Horowitz