Happy Friday!
I've been in Fire Island for over a month, working with the students remotely and also finishing up my current novel.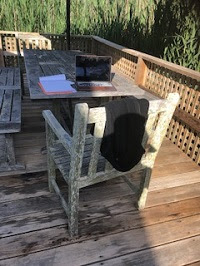 This week marked the passing of John Lewis, a very great man.
A friend told me a story about how years ago, John Lewis was leading a march. across a bridge and was beaten so badly that his skull was fractured. He survived, and continued his great work.
Many years later, after President Obama was elected, he and Lewis returned to the same bridge.
As John Lewis walked across the bridge, a man, slightly older than John, walked towards him from the other side.  As they met in the middle, the man said," Mr. Lewis, I got to get something off my soul." Lewis asked, "Why do I know you?"
"Because I'm the man that battered you senseless and fractured your skull all those years ago"
"What do you need to get off your chest?"
"I need you to forgive me. After all these years, seeing the marvelous things you've said and done, I realize how stupid and senseless what I did was, and I don't want to go to my grave with this on my conscience."
"I forgive you. I forgave you long ago. It's you who must do your own forgiving of yourself." The two men hugged, separated, and then walked away from each other back across the bridge.
I tell this story to make a point: That the person who often needs to forgive themselves the most is ourselves. Although the older man did a terrible thing, until he forgave himself, he couldn't  be helpful to others. Once he forgave himself, he was free to transform himself and the world around him.
When I heard the story, I realized that us writers, many of whom have done no harm other than to misspell a word, can learn from this story. We think we can get forgiveness from an outside source, by being produced or published, which certainly helps, but doesn't cure the root problem of self-blame. To write to your full potential, you must be at peace with yourself, no easy task! I invite you to explore this internal situation with yourself. If you find that you do have self-forgiveness issues, do whatever it takes to get you writing your very best! We writers have an important job to do.
For myself, it's an ongoing problem. I must forgive myself for so many things! For example, how long it takes me to come up with ideas, how hard it is for me to find the right words, and to "show " and not to "tell."  Whenever I get into this state of unforgiveness, my writing suffers or comes to a halt. I discovered that the cure is to simply start writing, and to tune into how much I love the act of writing. I love putting words on paper or on my computer screen, regardless of whether or not I meet my own expectations. When I write regularly, and freely, I forget myself and can focus on the job of creating, and not be distracted by self-judgement. Writers write. It's as simple as that. The hard part for me is to remember that the cure is to grab a pen.
An exercise that can help you when you're stuck is to select a favorite word or phrase and attempt to arrange the word(s) decoratively in your notebook. One of my colleagues at NYU, Mick Casale,once said to me, "Sometimes all you have are the words on the page."
To recap, self- forgiveness and other negative emotions towards your own writing can be cured by the  simple action of writing for its own sake.
I'm excited to share Episode #30 of Jokeonastick. Check us out on Instagram and on our website. Get 4 laughs in your inbox every Friday when you subscribe for free.
Here's to your successful writing,
Professor Marilyn Horowitz